Happy Thanksgiving from Vintage Rock Club, Nightclub in New Orleans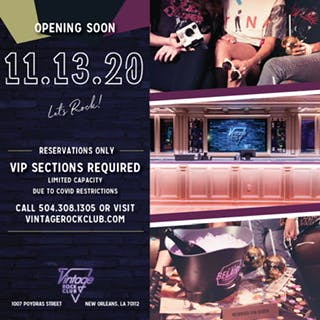 Thanksgiving is one of my favorite holidays. Not only do we get to overindulge on food, but it's also a time of year to show gratitude for the people around us.
For us at Vintage Rock Club, the main reason to be thankful is you. If it weren't for our loyal customers that love to have a great time surrounded by great music and amazing drink deals, we wouldn't be able to be the hottest nightclub in New Orleans.
After a long and interesting year, here are some things we are immensely grateful for in 2020 and looking forward to the rest of the year.
We're Back Open!
After temporarily closing to ensure the safety of our staff and community, we are so excited to announce that we have reopened our doors! We appreciate the opportunity to once again create memorable experiences for our guests, in our socially safe and COVID-compliant nightclub in New Orleans.
Enjoy the full rock star treatment while safely separating your party from other guests in one of our six VIP lounges with full-table service. Due to COVID restrictions, we are open by reservation only with limited capacity. Please call (504) 308-1305 or visit vintagerockclub.com to make your reservations. Let's rock!
Great Rock Music
There are many things to be grateful for on Thanksgiving, but there is one thing that has been with us through all of our best and worst times - rock music. Whether you're getting hyped during the game on Turkey Day to "We Will Rock You" by Queen to crying your eyes out to The Beatles – "Eleanor Rigby", there's truly a rock song for every occasion.
The best part? You can enjoy all of these and more at Vintage Rock Club. If you want to have some fun grooving to the best hits of the 70s, 80s, 90s surrounded by cool, social people, friendly bartenders, and affordable drinks in New Orleans, then Vintage Rock Club is what you're looking for. Come by this weekend, and see for yourself!
Food and Drink Deals
Vintage Rock Club may very well be the greatest jukebox that ever lived, but we also couldn't be more thankful for bringing your favorite throwback flavors to the CBD. From New Orlean's only jello-shot machine to Highway-to-Hell cocktails and fancy peanut butter and jelly - we have it all and more at Vintage Rock Club, nightclub in New Orleans.
Swing by this weekend to check out our new food and drink deals from our expert bartenders and chefs. We can't wait to serve you with nostalgic flavors, sights, and sounds that will bring you and your friends right back to your younger years.